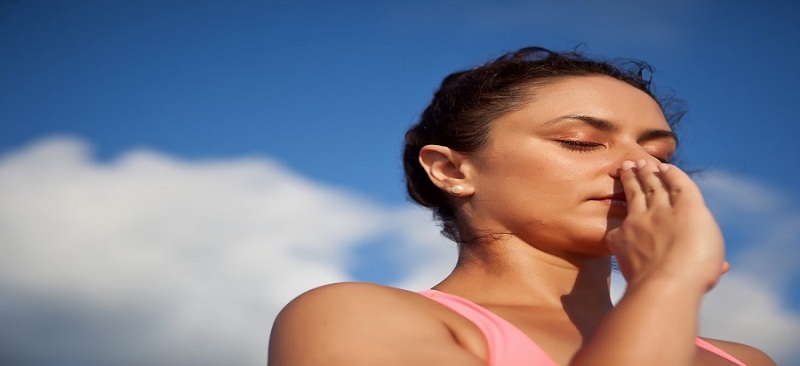 WHAT IS Pranayama OR YOGIC BREATHING ?
'Prana' means life-force or vital energy that pervades the body. Prana is the link between mind and consciousness. The physical manifestation of "prana' is breath and"ayama" means to regulate, extent or draw out the breath.
Prana is the vital energy needed by our physical and subtle layers, without which the body would perish. It is what keeps us alive. Pranayama is the control of prana through the breath. These are breathing techniques which are practiced by taking air in through the nostrils.
Pranayama is a part of Yoga system that teaches you the art of extending your breath in many different ways. When practicing Pranayama the breath should be skillfully inhaled, exhaled and retained. It teaches you to change the depth, rate and pattern of breathing
WHAT IS THE ROLE OF Pranayama IN HOLISTIC HEALTH?
Prana flows through thousands of subtle energy channels called 'nadis' and energy centers called 'chakras'. The quantity and quality of prana and the way it flows through the nadis and chakras determines one's state of mind.
If the Prana level is high and its flow is continuous, smooth and steady, the mind remains calm, positive and enthusiastic. However, due to lack of knowledge and attention to one's breath, the nadis and chakras in the average person may be partially or fully blocked leading to jerky and broken flow. As a result one experiences increased worries, fear, uncertainty, tensions, conflict and other negative qualities
Regular practice increases and enhances the quantity and quality of prana, clears blocked nadis and chakras, and results in the practitioner feeling energetic, enthusiastic and positive. Practiced correctly under the right supervision Pranayama brings harmony between the body, mind and spirit, making one physically, mentally and spiritually strong.
When one learn the breathing techniques it will positively affect your actions and thoughts. Every thought we have changes the rhythm of our breath. When we are happy breathing is rhythmic and when we are stressed breathing is irregular and interrupted. Mastering the art of breathing is a crucial step towards self-healing and survival
BENEFITS OF Pranayama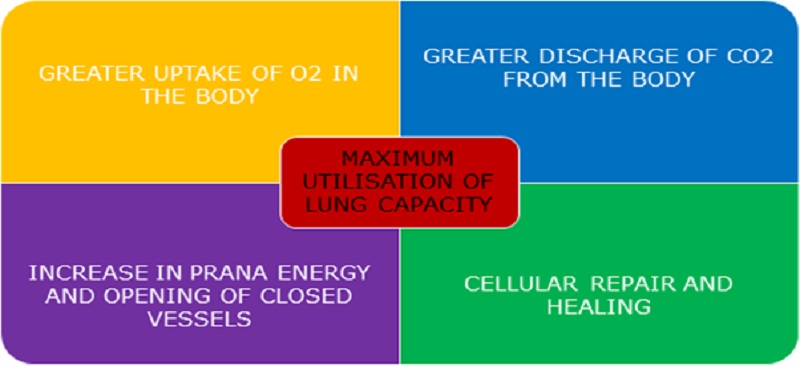 WHAT ARE THE BENEFITS OF Pranayama?
Pranayama techniques are beneficial in treating a range of stress related disorder.
Pranayama improves the autonomic functions.
It reduces the signs of oxidative stress in the body.
Practicing Pranayama everyday can assist in steady mind, strong will power and sound judgement.
Regular Pranayama can extend life and enhance ones perception of life.
Number of studies show that Pranayama causes change in the cardio respiratory system including lowering of blood pressure, Cure asthma , chronic bronchitis, COPD etc.
Improves digestion and complaints related to digestion such as acidity, constipation , colitis , IBS , Peptic Ulcers etc.
Certain Pranayama's like Kapalbhatti are excellent for weight loss
Cancers , tumors , fibroids cysts and other abnormal growths can be benefitted by Pranayama
WHAT PRECAUTIONS SHOULD I TAKE WHILE DOING Pranayama?
Since the Pranayamas deal with the subtle force, it is important to practice them as taught from an experienced teacher,do not self-experiment with them.
Dr. Mitali at Holistic Clinic is trained to teach you various breathing techniques as per the requirement of your body and your disease condition.
Pranayama can be a great way to start your day. Early morning is the best time to practice Pranayama, especially outside where you can find fresh air.
It is recommended to do breathing exercises on an empty stomach.
If you are a patient of hypertension, spondylosis it is advisable to do your Pranayama with slow subtle strokes, and avoid jerky movements.
HOW LONG SHOULD I PRACTICE Pranayama?
A beginner can start with 5 minutes and then gradually increase it over a period of next 15 to 20 days to 15 mins.
The benefits of Pranayama begin on the body after 15mins of continuous practice, hence it is advisable to practice for 15 to 20 minutes to get the best effect.
One can practice daily for 20 mins everyday morning or evening.
Dr. Mitali Upadhye, at Holistic Clinic, Paud Road, Pune is an expert Homeopath, Health Coach, Counsellor and Healing Therapist and has great deal of expertise in Pranayama, she has learned different techniques of Pranayama based on RAJYOGA from Siddha Samadhi Yog institute, Pune. Ramamani Iyengar Yoga Institute, Pune. Shivananda Yoga Institute ,Varkala.