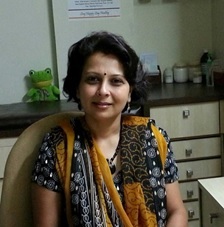 Dr. Mitali Upadhye
B.H.M.S , D.H.M
---
Dr. Mitali Upadhye is a Homoeopath, Counsellor and a Healing Therapist by profession. She began working in alternative medicine with holistic approach in 1996. She has a vast experience of over 20 years in the field of Classical Homoeopathy.
B.H.M.S (Pune) (Bachelor of Homoeopathy Medicine and Surgery.)
D.H.M (Pune) (Diploma in Hospital Management)
CERTIFIED JOURNEY PRACTITIONER
Homoeopathic Consultant : 20 years +
Counsellor : 18 years +
Healing Therapist : 3 years +
Medical Officer

While working as a medical officer had the opportunity to learn and groom the skills of Orthopaedics under the expertise of Dr. Suhas Jog of Jog Hospital, Pune.

Extensive experience in Gynaecology and Obstetrics under the guidance of Dr. Mrs Jog of Jog Hospital, Pune.

June 1995 to January 1996



Advance Training in Classical Homoeopathy

For one year trained with Beacon Foundation based on renowned Dr.M.LDhawale concepts of classical homoeopathy comprising of clinical work, attending OPD of homoeopathic practitioners Dr. Vikrant Mahajan, Dr. Prasad Joshi, and Dr.Sadanand Chavare, Case presentation, attending seminar, group discussions etc.

June 1995 to January 1996



Practitioners Training

One year training course with Dr. PradeepSethiyaa complete grooming and hands on practical training most vital during the first initial stages of a new practitioner.

June 1996 to January 1997



Yoga Expertise

Training in yoga from Ramanani Iyengar Yoga Institute, Sivananda Yoga Centre And Bihar School Of Yoga.

June 1996 to till date



Vipassana Meditation

Training for last 10 years in Vipassana meditation technique under the blessings of late Shri Satya Narayan Goenka founder of Vipassana International Academy, Igatpuri.

2008 (completed three 10 Days Courses)



EFT training

Trained with Mrs Sangeeta Bhagwat in 2009 for the world wide successful healing therapy "Emotional Freedom Technique" based on Acupressure, coupled with benefit of Positive energy through affirmations.

2009



Accredited Journey Practitioners

Training with world renowned Health coach Ms Rangana Choudhari Brandon Bays, Kevin Elliot for "Journey Work." A mind–body healing therapy for cellular healing

2013 - 2015



Hospital Administrator
Nyay Murti Ranade Hospital and Day Care Centre for Post graduate students of Homoeopathy.
June 2002 to February 2003
Pune Homoeopathy Forum

Mind and Miracles : Talk on "Mind Matters" highlighting the importance of mind in diseases.

October 2005



Case presentation Contest

Role of Cimicifuga in treatment of Depression" organised by Beacon Foundation

December 2005



Case presentation Contest

Role of Coccus Cacti in acute bronchitis with importance of good observation skills during practice "organised by Beacon Foundation

December 2007



Case presentation Contest

Treatment of Abdominal Colic in an Infant with Ignatia with importance of mothers mental state post pregnancy

December 2009



9TH Cancer Management Course, Ruby Hall Clinic

Presentation on "Holistic Approach to Management of Cancer

March 2015