"Cancer Care with Compassion"
If you clean your body, your diet, your thoughts, your mind, your spirit, and your environment, your body naturally cures cancer.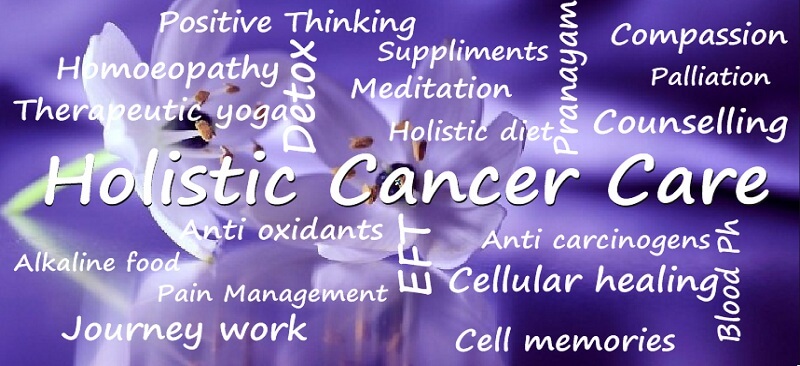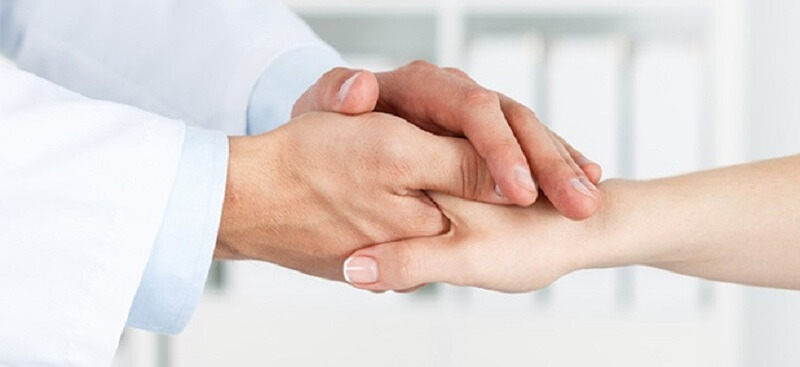 WHY DID I START A HOLISTIC CANCER CARE CENTRE?
The biggest challenge that the world today faces is the fast and furious growth of the disease Cancer all over the world. The medical world has very limited solutions to this rapidly increasing malady. Often the treatment of cancer has side effects worse than the disease itself. The patient is often left feeling helpless and lost. Recurrence of cancer even after chemotherapy, radiation or hormonal therapy is very disheartening for the patient and the consulting physicians also.
What's even more alarming is the FEAR about this disease. With heavy heart I would like to note that the medical fraternity is doing very little to address this fear in the mind of the society, the patients and the relatives regarding cancer. One rather sees that each and every agency associated with this disease taking undue advantage of this Fear Psychosis. To allow the fear to dominate the scenario and thereby market costly trail based, unproved treatment modalities to the patients and their families seems to be the game today.
My personal experience with Stage 3 Ovarian cancer in June 2013 followed by rapid and miraculous cure within 6 months was based on Holistic Approach to Management of Cancer. Having successfully tested and evaluated the principles of Holistic Approach to cancer I felt it was my duty as a doctor to share these principles with the world .To gives other cancer patients and the society a deeper understanding of this disease.
What began as a humble and sincere desire to educate the society about cancer, to instil HOPE in the minds of other cancer patients has today given birth to a Holistic Cancer Care Centre


WHY DO I SUGGEST HOLISTIC APPROACH TO CANCER?
Cancer is not the cause of the disease. It is the effect of the disease condition the body has been going through for a prolong period of time prior to the beginning of cancer.
When we kill the cancer cells with harmful toxic chemotherapy drugs we are only treating the effect of the disease and not the cause.
Chemotherapy, Radiation, Hormonal therapy are temporary solutions to the problem. They cannot prevent the normal cell in our body from becoming cancerous again.
When we choose a treatment we will have to work on various factors directly or indirectly responsible for making us sick in the first place .
The factors which are responsible for cancer are:
Unhealthy lifestyle
Improper diet and nutrition
Prolonged nutritional deficiencies which have not been timely corrected
Emotional traumas and trapped unhealthy emotion
Negative attitude to life causing depression
Inability to forgive self and others , thereby nursing old grief , hurt and wounds
Karmas of present and past lives
WHO CAN TAKE HOLISTIC CANCER CARE TREATMENTS?
ALL CANCER PATIENTS CAN BE BENEFITTED BY THIS TREATMENT METHOD.
You can choose Holistic Approach as your first choice of treatment after detection of cancer
Cancers patients in all stages of cancer.
Patients with recurrence of cancer after taking chemotherapy or radiotherapy
Cancer patients who are undergoing chemotherapy and radiotherapy can simultaneously use holistic cancer care treatments.
Advanced stages of cancer requiring palliative treatment and supportive treatment
Family members of patients who have cancer can take Preventive treatment.
WHAT SHOULD YOU EXPECT AT HOLISTIC CANCER CLINIC?
A 'HOLISTIC APPROACH' to treatment of cancer for all stages. Where treatment is given to the sick person and not the disease symptoms or the reports.
It is now been well established that the main cause of cancer is in the faulty lifestyle, diet and the mental and emotional traumas of the patient ,
When we treat cancer without correcting these aspects it's like treating the effect of the disease while ignoring the cause of the disease.
At holistic cancer care we will look into the correction of faulty life style, dietary correction, healing old painful traumatic memories of the past and correcting negative thinking patterns of the mind.
WHAT DOES THE HOLISTIC APPROACH INCLUDE?
A comprehensive approach to healing cancer includes the following factors:
HOMOEOPATHIC MEDICINES
MIND BODY HEALING THERAPIES
HOLISTIC DIET AND NUTRITION
ENHANCING THE IMMUNITY( Ashtanga Yog)
POSITIVE ATTITUDE
LIFESTYLE CHANGES
WHAT IS THE HOLISTIC TREATMENT PLAN ?
Step 1 You will be given a 1 hours appointment with Dr.Mitali Upadhye. Where in you will get to share you problems in detail, discuss your investigation reports with her. She will explain in detail the principles of Holistic Approach to cancer management and how you will work together to heal yourself.
Step 2 Once you decide to go Holistic with us, your first appointment will be a 3 hours complete case study and analysis with Dr. Mitali Upadhye. This is a very important aspect of the treatment as the case study helps her to chalk out a detailed treatment plan just for you.
The first case study is your analysis as an individual, your life space, your environment , the challenges you went through in life and how you reacted to them, your temperament, nature , behaviour patterns, your likes and dislikes , your family history , past illnesses etc. The homoeopathic medicine best suited to your current stage of cancer is chosen for you.
Step 3 will be 1 hour diet and nutrition consultation, where together we will work towards a wholesome, energising, nutritious diet based on holistic principles. Nutritional deficiencies if any which are often precursors to cancer will be corrected.
Step 4 is the most important and unique aspect of the Holistic Cancer Care treatment. We will meet once a week or once in 2 weeks for mind body healing sessions of 3 hours each.
Step 5 Dr Mitali has pioneered a unique method of working on the subconscious mind training the mind to develop POSITIVE thoughts and thinking patterns . You will also have personalised sessions with her learning various tools and techniques best suited for you as an individual.
Treatment plan usually continues from 1 month to 3 months
Medicines and counselling sessions are continued as follow up for next 1 year. On phone or skype or in person.
WHAT SHOULD YOU COME PREPARED WITH?
The holistic Approach is a unique approach based on SELF HELP.
Unlike other clinics were you played very minimal role or a passive role in the treatment of your disease, U WILL BE ACTIVELY PARTICIPATING IN YOUR TRATMENT.
At Holistic Care you are require to TAKE RESPONSIBILITY of your illness.
Holistic Approach is based on the understanding that WE HAVE KNOWLINGLY OR UNKOWINGLY CREATED OUR CANCER DUE TO OUR FAULTY LIFESTYLE AND NEGATIVE THINKING.
We can only correct or change anything, when we choose to take responsibility of that thing. Hence when we take responsibility of our illness we also take responsibility to make the necessary changes to bring our body back to health.
So will have to prepare yourself to do a lot of self-help work, of course you will be guided by Dr.Mitali with her expertise in this field.
HOW IS THE HOLISTIC APPROACH TO CANCER DIFFERENT FROM OTHER TREATMENTS?
True healing from cancer means healing on all levels of being - the physical, the emotional, the mental, and the spiritual.
There is overwhelming evidence of emotional, mental, energetic and spiritual factors often/always functioning as decisive triggers in both the onset and healing of a cancerous or other lifestyle diseases.
Emotions seem to play a crucial part in the genesis and healing of serious disease such as cancer and other illness.
Any kind of unexpected shock, for instance (and this includes a cancer diagnosis!), can have a devastating effect on health and/or the immune system - until it is resolved and healed with healing therapies.
A similar mechanism seems to be true for living in fear and panic, so one of the first tasks at hand in a successful healing journey is working at re-establishing the greatest possible measure of inner peace and confidence.
Thus the Holistic Approach is a journey of healing the mind and the emotional of the sick patient which are the true cause of the illness.
Dr. Mitali Upadhye is very experienced in structuring sessions to meet your specific needs. She works with individuals and families, in addition to offering group sessions for people who might benefit from interacting with others in similar circumstances.